Prev
Next
The My Settings function allows each user to configure certain aspects of their user experience.
Note
Admins can restrict users' access to the My Settings menu by unchecking the Show Username option in the users' assigned UI Profile.
Click on the initialed circle (in the top-right corner of the screen) to access your personal settings.

A user can customize their app experience in My Settings. The following menus are accessible from My Settings:
Click on the Preferences option to see the following panel: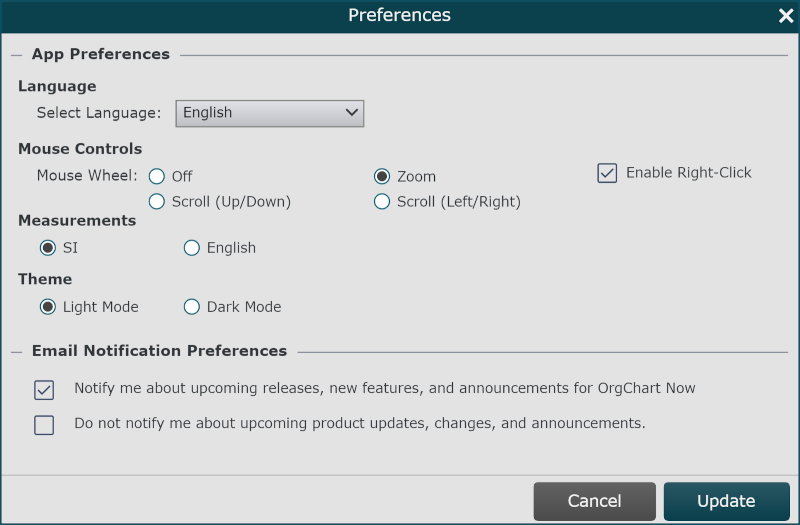 App Preferences
Language

See the language to be used in the OrgChart user interface. Available languages include English, French, Spanish and German.

Mouse Controls

Set the behavior of your mouse wheel:

Off – Mouse wheel ignored

Zoom – Mouse wheel zooms in/out

Enable Right-Click - Enable/disable right click. Right-click sometimes needs to be disabled when a chart is embedded in an intranet or other web application.

Scroll (Up/Down) – Mouse wheel scrolls vertically

Scroll (Left/Right) – Mouse wheel scrolls horizontally

Measurements

Toggle measurements to display in SI (Metric) or English (Imperial). For example, you can control if page sizes are displayed in centimeters or inches.

Theme

Choose to explore the application in Light Mode or Dark Mode.
Light Mode
Select Light Mode to adjust your UI settings to display dark text on a light background.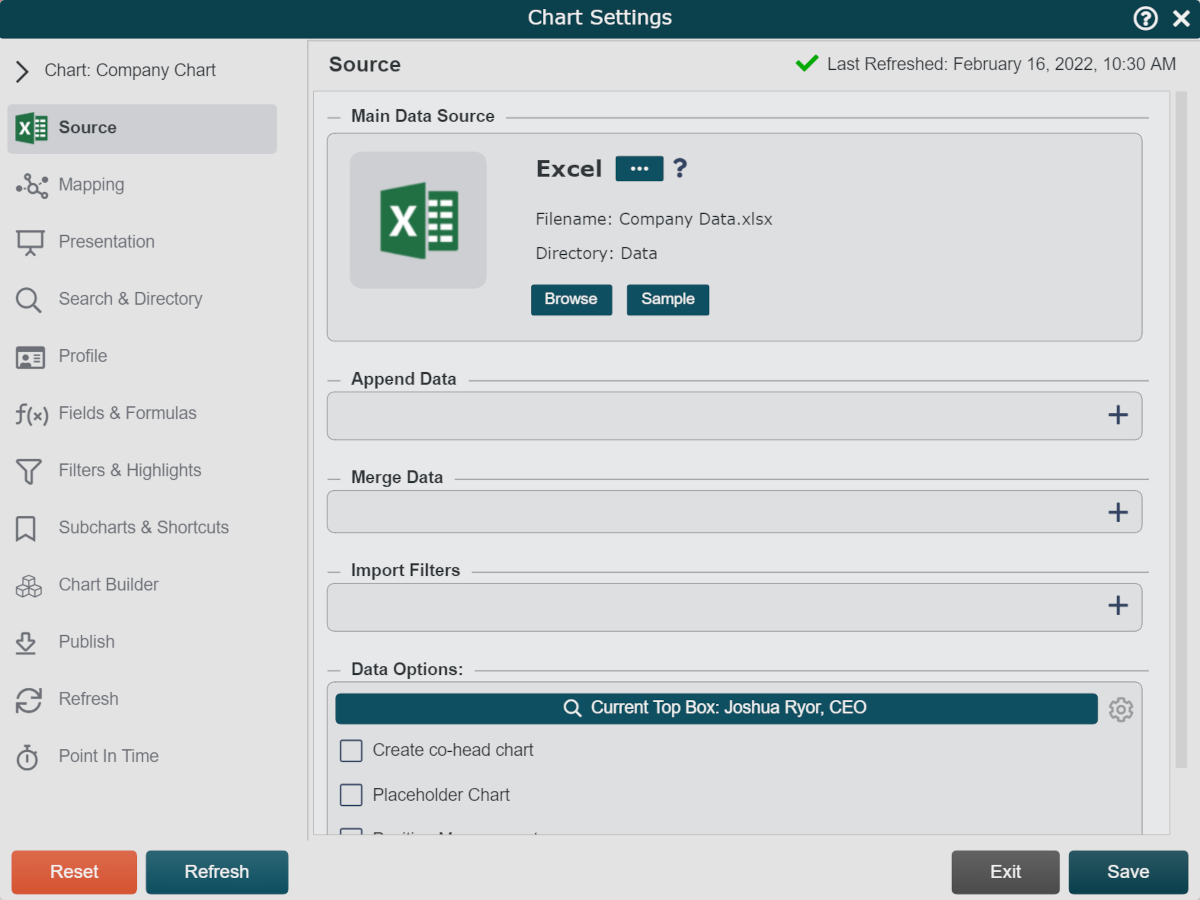 Dark Mode
Select Dark Mode to adjust your UI settings to display light text on a dark background.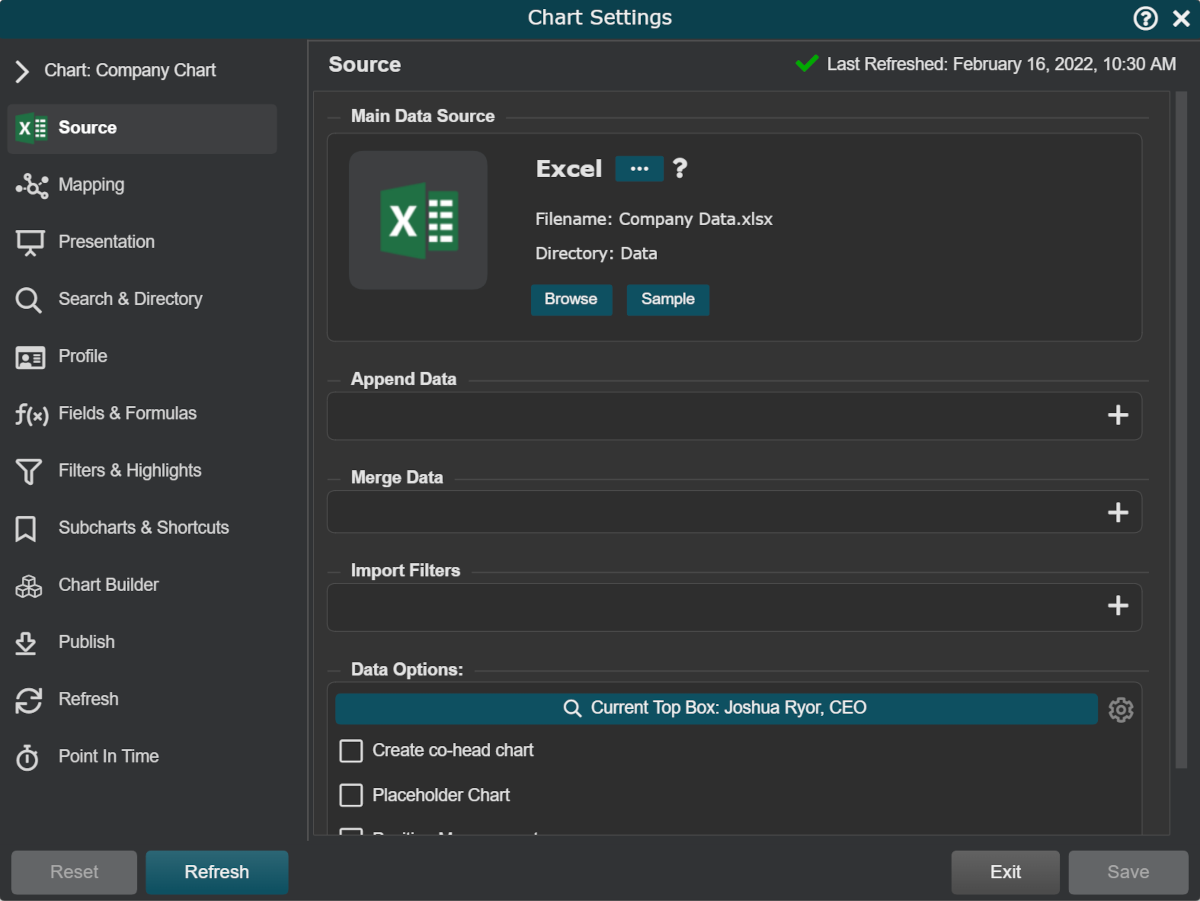 Email Notification Preferences
Check the checkbox associated with one of the following options:
Notify me about upcoming releases, new features, and announcements for OrgChart Now

Do not notify me about upcoming product updates, changes, and announcements
Note
In order to successfully receive email notifications, ensure that the Email field is populated for your user within the Account Settings: Manage Users panel.
The Notification Center allows users to receive specific communication regarding their OrgChart Now account, upcoming server maintenance, and new versions.
Users with unread notifications will see a red indicator on the My Settings button.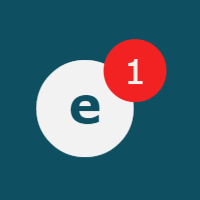 Click on the Notification Center option to view your notifications. Click on a message in the Inbox to open it.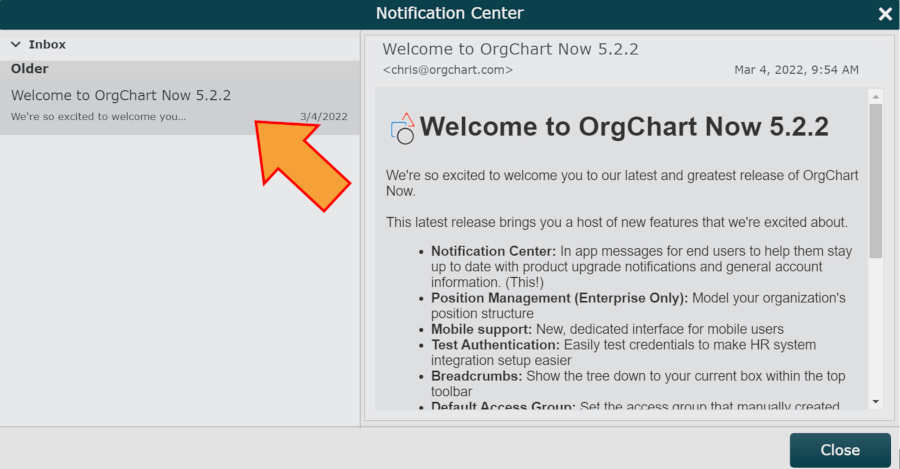 Note
Important notifications may pop-up upon sign-in. If this occurs, you will need to click on the message in the Inbox, and then read it before you are able to close the panel.
Click on the Change Password option to see the following panel: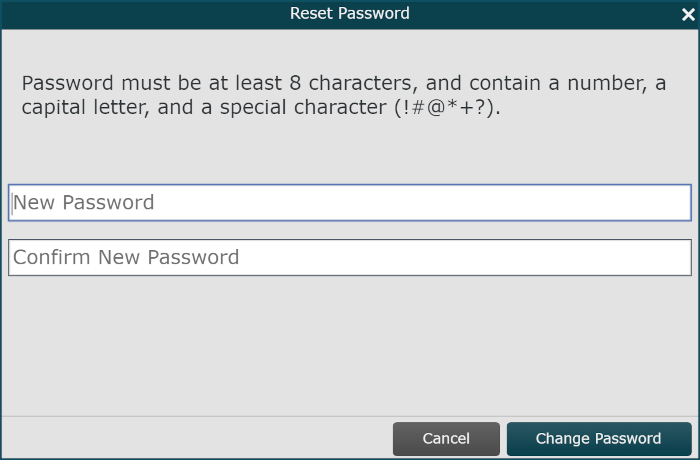 Enter a new password that meets the specified password requirements, and then re-enter it in the Confirm New Password text box.
Click on Change Password, to update your OrgChart Now password.
Click on the Help option to access the following OrgChart Now resources:
Support - Launch the Support portal to log an issue or request assistance from the OrgChart Now Support Team.

Terms of Service - Launch the Terms of Service regarding your OrgChart Now subscription agreement.

Privacy Policy - Launch the OrgChart Now Privacy Policy.

Guide - Launch the OrgChart Now online Help Guide.

Note

If desired, you can log a ticket with our Support Team to use this option to launch your own personalized Help guide.
Click on this button to sign out of the application.