Prev
Next
Overview
A Master Chart is an automatically generated chart derived from one or more data sources. Master Charts are visible in Viewer mode and can be used to create custom Chart Documents.
Master Charts are managed in the Account Settings: Chart Management panel.
Creating The First Master Chart
When first logging into your OrgChart Now account, you will see the following pop-up: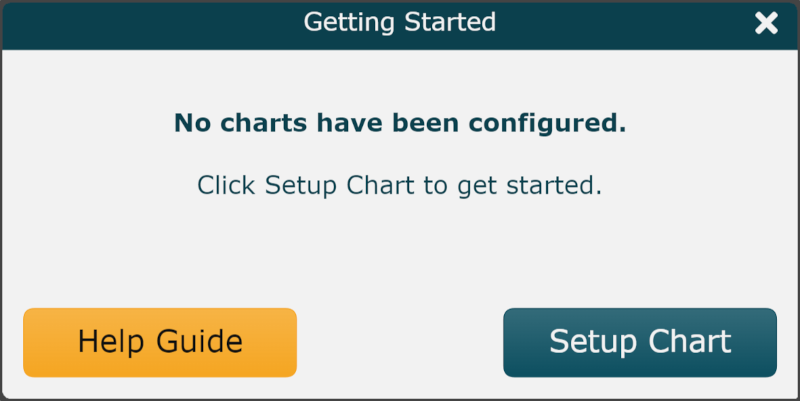 Click on the Help Guide button to access the Administrator Interactive Tutorials, and learn how to setup your first chart.
Click on the Setup Chart button to begin configuring your first chart. Then follow these steps:.
If you choose the Setup Chart option, the Chart Settings: Source panel is displayed.

Click on the Please select a data source to continue chart setup hyperlink, and then select your connector from the Main Data Source panel.

Enter the required credentials in their associated text boxes. For more information regarding your connector's specific setup, reference its dedicated help document, which you can find here in the Connectors article.

Click on Save.

Click on the Mapping tab in the left side menu, or click on the yellow Configure Mapping button, which will appear if OrgChart was unable to correctly map all of your fields correctly.

Click on the Load Mapping button (in the top corner), and then verify that your fields are mapped correctly. Reference the Chart Settings: Mapping article for more information.

Click on Save, and then Refresh.
Creating a New Master Chart
Administrators can add additional Master Charts to their account. This is useful for restricting data on import, or visualizing specific parts of your organization. The following section provides step-by-step instructions for adding a new Master Chart to your OrgChart account.
Click on More > Account Settings and then click on the Chart Management tab from the left side menu.

Click on the icon to the right of the Master Charts heading.

Enter a name for the Master Chart in the Chart Name text box, and then click on Save.

Configure your Master Chart in the Chart Settings: Source panel that is displayed. Reference the associated Connector articles to properly set up your data connectors.

Once you have configured your data connector(s), click on Save and Refresh. The Master Chart is automatically generated.
Opening Master Charts in Viewer
If you have more than more Master Chart in your account, you can toggle between them while in Viewer mode using the Chart menu.